15
15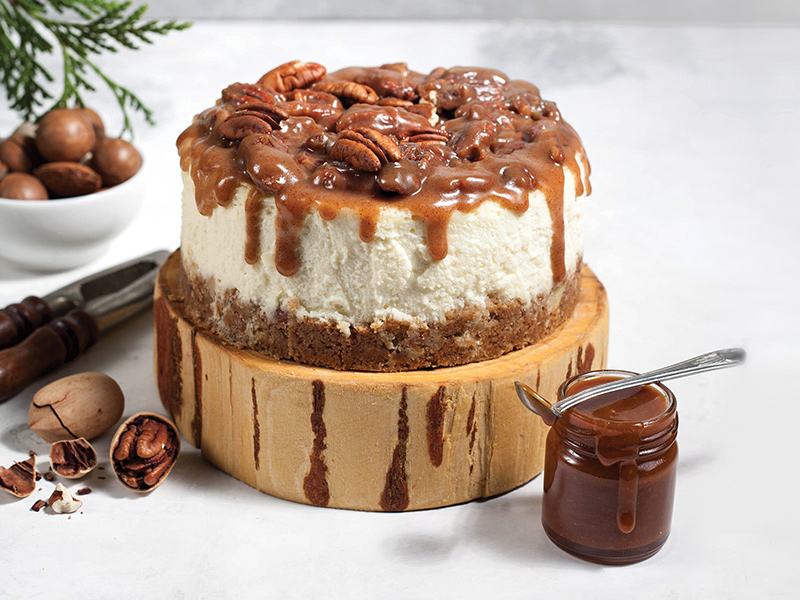 Working Method
Biscuit Base
Crush the biscuits, then mix them with the melted butter.
Press 200 g of the mixture into the base of a 20 inch cake ring or small sponge tin. Let it set in the fridge.
---
Cheese Cake Filling
Using a whisk mix all ingredients together for ±1 minute on a slow speed, then for 6 minutes on a fast speed.
Fill with 600 g cheesecake mix and allow to set in the fridge.
---
Pecan Nut Cooking Sauce
Melt Ambiante, margarine, glucose and sugar together in a cooking pot, then cool down before mixing the eggs in.
Place 200 g of pecan nuts in a 3001p aluminium foil and pour ±100 g of the sauce over it.
Bake at 160° C for ±35 minutes. Allow to cool down.
---
Caramel Sauce
Melt the Chipkins Caramel Spread.
Pour ±30 g of caramel sauce on top of the cheese cake, remove the pecan nut topping from the foil and place on top of the cheesecake.
Drizzle with another ±30 g of caramel sauce.
---
Baking Overview
About this recipe
Author: Chipkins Puratos
Complexity level: